"A drill sergeant in the army lined up his soldiers at the end of the day.
"Smith", he called to one of the men in his command, "I didn't see you at the camouflage practice today."
Smith replied, Thank you, sir."
via
soon_lee
From whom also comes this perfect example of the necessity of the Oxford Comma: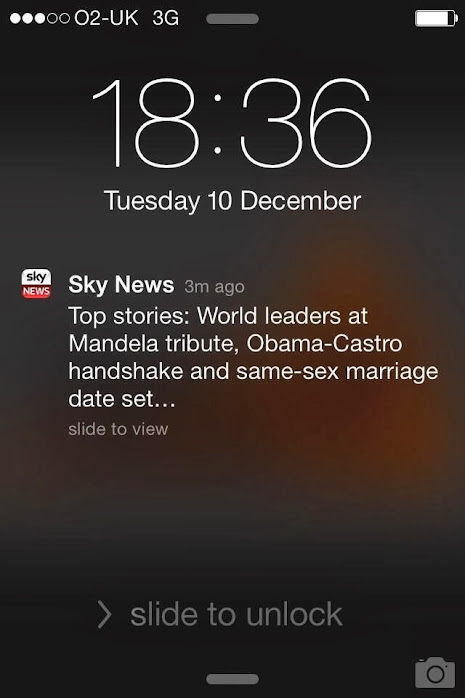 ---
Original post on Dreamwidth
- there are

comments there.
I am amused that I was not alone in thinking of Dr Manhattan when I saw this, as another of
james_nicoll
's commenters felt likewise.
---
Original post on Dreamwidth
- there are
comments there.
Proust Questionnaire" probings about my personality [e.g. questions asked of the French writer Marcel Proust at the end of the 19th cent. that reveal one's tastes and aspirations].

Unfortunately, this blooming LJ is acting up and not allowing me to print the result of my reflections. I mean that. Honest. I'll try again sometime.


I've been asking myself what answers I would give to some of the "
widgetfox
,
danieldwilliam
and his lovely wife. It was a good evening - relaxing conversation which was just what I wanted.
And I left it at 9:30 vibrating quietly on the inside, headed home, and ended up having a long conversation with Julie about that, about how we're both doing mentally, and why it is that even though I've not really been doing much recently, I still feel exhausted all of the time, and my social skills are not up to their usual standard.
Then I spent an hour lying awake feeling horribly stressed in the middle of the night (I think, it felt more like three hours, but I only feel tired enough for it to have actually been about an hour). And this morning I thought of the perfect metaphor for where I am.
You know that feeling you get when you're waiting for someone who's in surgery[1] - where you're sitting there in a waiting room, trying to do anything you can possibly do to distract yourself, to ignore the huge thing that's going on that you're completely powerless to do anything about? Where you can mostly distract yourself on a surface level, but every so often the worst possibilities pop up in your head, so you pace back and forth for a bit until the nervous energy passes, and then you can sit down for a bit and read something light[2], and even make some conversation[3] for a while, before the possibilities bubble back to the surface for a while.
That's where I am. I'm sitting there, waiting for the doctor to come out and give me the news.
And I have been for a few years now. Because this at least partially predates the cancer diagnosis. It goes back all the way to Julie's illness that started six months before the wedding, when the PhD went from "Almost over, and it's been delayed, but at least it's nearly done now." to an indefinite path fading into the horizon, with the life we'd been looking forward to starting receding at the other end of it, vanishing slowly into a grey fog.
So when people speak to me, I answer. And I have conversations. And I still do well at work. And I see people. And sometimes I even have a good time. But I never really feel like I'm quite actually _there_. I'm there for brief moments of distraction, and then I turn away from the bright lights, and I'm back in the room. Waiting. Slowly vibrating, and intermittently pacing back and forth[4].
Some day my waiting will be over. I look forward to leaving the room then. Until then, I'm sorry if I'm distracted, or short, or less organised than I could be, and if I see you less than I would have done a few years ago. I miss it too.
[1]Or in seeing their doctor, or otherwise off elsewhere going through something while you wait for them.
[2]Although it usually has to be read four times before it goes in.
[3]Even though, in the back of your head, is a feeling that whatever the conversation is about is much less important than what's going on in the operating theatre right now.
[4]I'm not convinced there's a lot I can do about this. I've had some counselling around it, which helped me deal with some issues that were getting in the way of Julie and me communicating well, and me looking after myself. But unless I walk away from the waiting room (which I am not doing, because my wife is in there) there's no way of getting rid of the stress, and the feeling that everything else in the world is less important than what is going on in there, outside of my control. I lay there last night for ages, thinking how lucky I was to have her, and how she'd transformed so much of my life, and how, if I lost her, I'd almost certainly have missed my chance to have the kind of life I now wanted, particularly to have children, and that she had all these amazing attributes that I'd never find all at once in someone else - her approach to life, her way of thinking, the things we both love doing together, and the thought of starting again with someone else, and building all of that up again just made me feel nauseous. I'd do anything not to lose her - and I know it's not actually that likely, but that doesn't help at three in the morning in the dark.
---
Original post on Dreamwidth
- there are
comments there.
I went out last night and saw some friends -
Both kids have been reporting all week, with a little concern, that the lights in the utility room flicker when you turn them on. I'd brushed that aside as nothing to worry about: most of our lights are CFLs, and they do sometimes flicker when you turn them on, especially as the bulbs get older.
But the bulbs in there are halogens. I'd forgotten to change them after the light fitting was installed about a year ago. They are not flickering in the way that CFLs do when you turn them on, and they really should not be flickering at all. It's almost certainly a sign of a bad connection or wiring problem that wants addressing soon - it's exactly the sort of problem that could cause a fire.
And I didn't listen properly until this morning, when I happened to be close by when it happened, and so went and saw it myself.
The power is isolated, and a sparky I trust is coming round tomorrow to look at it, and to assess whether we need him to do a full inspection.
It reminds me of a time when I was about **FIXME's age (7) and we were on a long family train trip to Scotland. The train was splitting in two at Carlisle, and I was eager to watch them do it. I was delighted that they were doing it right next to our carriage ... but with a growing sense of horror I realised that, given which end of our carriage they were doing it, we were in the wrong half of the train. It was really hard to persuade my parents that yes, I knew fine that the train was supposed to split, and yes, I knew it was theoretically possible for us to be in the right half even if the split happened right next to us, but we really were in the wrong half. Eventually I succeeded, and we switched carriages and got to where we wanted to go.
While there are many experiences my parents gave me that I also want to give to my kids, the experience of the grownups not listening when you are pointing out something important is very much not one of them. Though to be fair I'm sure it's not one my parents wanted to give me either. It's almost certainly inevitable that it'll happen, but that's no reason not to try to minimise it.
I have more work to do, I think. I can emphasise how pleased I am that they showed me to be wrong. I'll do what I can to explain how right they were to raise the problem, and how wrong I was to say it was nothing to worry about before I'd explored it properly. (I need to avoid laying it on too thick though - **FIXME has a real fear of fire.) It's hard. If I spent the time to properly and fully investigate all their concerns, we'd get almost nothing done. Most of the time my snap judgement is right. I think I should be a shade less confident in it compared to theirs - they are getting smarter even faster than I'm allowing for (though of course not uniformly). And I also want to encourage them to persist if they are sure they're right. I'm pretty sure they're still largely in the "Daddy knows (almost) everything" cognitive phase, and that needs to change over time. (Though obviously without catastrophically undermining their sense of security.)
Come to think of it, turning this in to a family story that gets re-told might help. Next time they think they're really right and I'm wrong, they can say "Remember that time with the lights in the utility room?". And now I think of that, I'm starting to suspect that the reason I remember the train-splitting-at-Carlisle incident is because my parents did exactly this trick with me.
This entry crossposted to http://doug.dreamwidth.org/266490.html, where there are
comment(s) not shown here.
It's really bloody hard. Because most of the time, I do know better than them, and the thing they're concerned about doesn't need to be a worry. But not always.
---
Original post on Dreamwidth
- there are

comments there.


Sorry, that's misleading; we don't have any snow. I'm not even sure I've got the words entirely right. It's just that I woke up this morning, looked out the window- and ever since I've had that line going through my head.

This morning's frost is heavier than yesterday's. The mist is heavier too. I had to put my glasses on before I could pick out the sheep from the ambient whiteness.

Yesterday's mist cleared from the hills in the course of the morning, but when we drove into Paddock Wood in the afternoon all the cars we met had their headlights on- which seemed weird in the sunshine- but then the road descended and- round about the point where it passes Siegfried Sassoon's old house- plunged into a mist so thick it might even be classifiable as fog but not so thick we couldn't see the sun. The sun was silver.

We'd gone into town to take Christmas stuff to the Post Office. So far as I'm aware that's us finished now. Everything that needs sending off has been sent.

My mother has barely started her Christmas preparations. She'll say she's worried about it but when we say, "Right, we'll take you to Marks and Spencers" she'll say, "Yes, I see" which means "Let's drop the subject." Ailz drew up a list of people to whom she might like to send Christmas cards and she'll glance at it, then pick up the newspaper again. We could take her by the scruff and frog march her to the shops; we could write her Christmas cards for her- but that seems like missing the point. She's not incapable of taking an interest, she's just choosing not to. And why should she? When I'm 92- if I ever get that far- I don't expect to give a tu'penny damn about Christmas either.
"At last did come both mist and snow".